Letter from the President of Management Board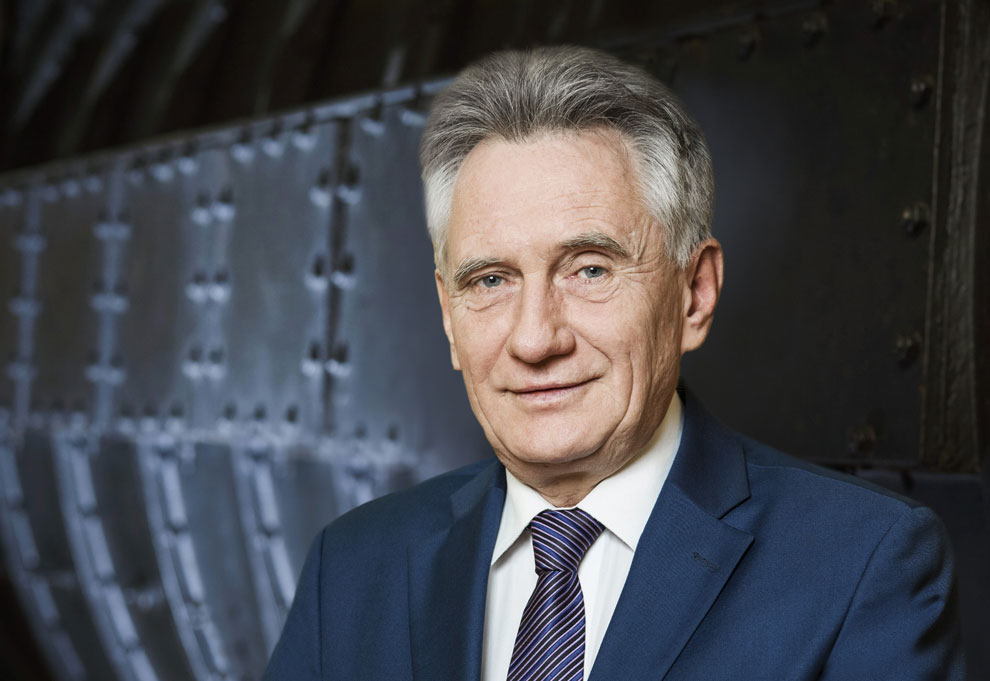 Ladies and Gentlemen,
I have the honour to present to you this Annual Report of PGNiG SA and its Group for 2016.
Last year it was the PGNiG Group's revised strategy that provided direction and focus to all our efforts. In revising the strategy, not only did we modify the existing strategic initiatives in key business areas, but we also added several new projects.
This led to solid financial performance at the consolidated level − we generated revenue of PLN 33.2bn and operating profit of PLN 3.4bn. Despite the persistently low prices of hydrocarbons globally, the Group's EBITDA came in at PLN 6bn, on a par with the previous year. The effect of the macroeconomic backdrop was a lower contribution to overall performance of the Exploration and Production segment. This, however, was offset by the strong performance in Trade and Storage, which doubled its previous year's operating profit as a result of the effective sales policy based on expanding customer relations. In 2016, we entered into a number of new contracts with both wholesale and SME customers. We also rolled out attractively priced dual fuel plans for retail customers, with gas and electricity supplies bundled in a single contract. During 2016, we sold almost 1.4 bcm more of natural gas than in 2015. We also launched gas exports to Ukraine.
The Distribution and Generation segments saw sustained year-on-year growth of approximately 10% each. The financial health and business reliability of the PGNiG Group are also confirmed by our investment grade rating.
In view of the need to develop a new gas procurement strategy beyond 2022, we decided to go ahead with projects designed to further diversify our supply sources, connected primarily with the 'Norwegian Corridor'. We see strong prospects for the future in our operations on the Norwegian Continental Shelf. Last year, our Norwegian assets yielded 0.5 bcm of natural gas, but we have plans to ramp up the annual gas production to 2.5 bcm by 2025. In 2016, we received the first deliveries of liquefied natural gas at the Lech Kaczyński Terminal in Świnoujście − seven shipments under the Qatar contract and one spot delivery from Statoil. We opened an office in London, the world's LNG trading hub, which will enable us to trade in LNG on international markets.
We launched a multi-year upstream project that will make use of innovative technologies to extract coal bed methane. Work is also under way on a new extended 'R&D&I' (research, development and innovation) strategy to create new innovation support tools. We embarked on a project to develop framework and tools for establishing partnership relations with start-ups, to be used in the delivery of our strategy.
In 2016, we also worked on streamlining the Group's organisation, which included the adoption of a new strategy by Polska Spółka Gazownictwa Sp. z o.o. and the acquisition of Przedsiębiorstwo Energetyki Cieplnej S.A. of Jastrzębie Zdrój and Spółka Energetyczna Jastrzębie S.A. by PGNiG TERMIKA S.A. Our projects in the coal mining sector are moving forward in line with the business plan adopted in April 2016.
In 2017, we aim to solidify our position in the domestic and European energy markets. I would like to thank our Customers and Shareholders for the trust they place in us.
Kind regards,
Piotr Woźniak
President of the PGNiG Management Board